New York Military Divorce Laws
|
Divorce Cases Setting Precedent in New York
The following New York court cases concern spouse benefits. The brief summary line is not all inclusive of the issues discussed. You may want to read each case in full to find similarities to your own situation that you can discuss with your attorney.
1983 Lansford v. Lansford 96 A.D.2d 832 Jurisdiction case between South Carolina and New York, where wife's economic, property rights, visitation, and child custody were decided by New York where as the divorce was granted in South Carolina; "home state" of the child is also to be considered. see source
1983 Damiano v. Damiano, 94 A.D.2d 132, 463 N.Y.S.2d 477, appeal case, pension is divisible
1984 Majauskas v. Majauskas, 61 N.Y.2d 481, 463 N.E.2d 15, 474 N.Y.S.2d 699. Pensions in general are divisible; Case law seems to treat military retired pay as subject to division;
1984 West v. West, 101 A.D.2d 834, 475 N.Y.S.2d 493, appeal case, Disability payments are considered compensation for injury and separate property as a matter of law, but a disability pension is marital property to the extent it reflects deferred compensation; "courts have held that the portion of a disability pension which represents retirement pay will be regarded as marital property subject to equitable distribution." see source
1987 Lydick v. Lydick, 130 A.D.2d 915, 516 N.Y.S.2d 326, appeal case;
1986 Gannon v. Gannon, 116 A.D.2d 1030, 498 N.Y.S.2d 647, appeal case.
Note: This page will be edited as more New York case information and links become available.
You can contribute additional 2013 New York military divorce information (or prior years) using our submission form.
Military Spouse Gifts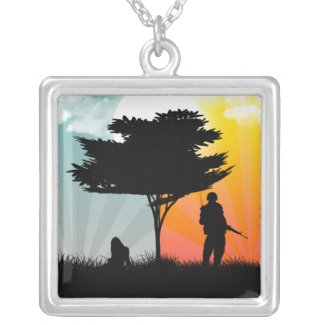 You're never too far jewelry by militaryloveshop
Shop Zazzle for another pendant