Military Spouse Thank You
|
Saying Thank You to the Military Spouse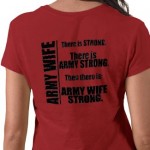 When the topic of military divorce comes up, due to the controversial issues of the USFSPA, discussions often seem unappreciative of the role the military spouse.
However, these individual opinions do not necessarily represent the majority. There are many in our country that empathize, sympathize, and admire the role of the military spouse and show acts of appreciation toward military families.

In 2012, not only was military spouse, Ada Xochitl Edwards, thanked for her family's contribution to our country, but she had the grace to try and find a way to say, "Your Welcome."
On February 29, 2012, in an "extraordinary act of generosity," someone anonymously paid the $1,197.03 bill for replacing Ada Xochitl Edwards' four tires on her Lexus car. Unable to reach the anonymous donor, she wrote publicly to The Commercial Appeal in Memphis, TN about this extraordinary act of generosity.
While Edwards often hears the words, "Thank you for your husband's service," or, "I don't understand how you [re: the military spouse] do it," she was "deeply touched and humbled by this overwhelming act of kindness.
In tough times, we need to remember there are people out there who recognize the efforts of military families and want to say, "Thank You."
Update: This generosity was given to a military spouse whose husband was away serving in Afghanistan.
God Bless the Military Wife
~ It can never hurt to say, "Thank you" to a military spouse.