The Rosary Workout – Spiritual & Physical Fitness Training for Military Spouses
|
A Christian Workout Exercise Program
As every December draws to a close, you may reflect on your current journey of life whether it be striving to save your marriage or perhaps you are approaching or recovering from a divorce.
At this time, as you set goals for the upcoming New Year or next stage of your life, you might take a peak at The Rosary Workout a Christian exercise program by military veteran, Peggy Bowes.
She teaches you how to combine your spiritual and physical health, so you become a stronger individual in all areas.
The core concept of her work out book focuses on maintaining mental, physical and Christian spiritual growth. When these areas are strong, everything becomes easier. This work out book may help military spouses handle the stress of the Armed Forces, the unique hardships of a military marriage, and any challenges children bring to the military family.
Peggy Bowes has both served active duty in the Air Force and played the role of dependent military wife. Needless to say, she understands the term military.
She's taken her knowledge of military fitness training, her long term experience of working and researching physical fitness, and combined this together with her Christian faith to come up with The Rosary Workout. It's a step by step Christian exercise program that anyone can begin, regardless of physical fitness level or knowledge of Christianity.
The Rosary Workout – Christian Exercise for Military Spouses
In the book, The Rosary Workout, military spouses will find:
An introduction to the history of the rosary
An overview of Mary's school and the Nine Choirs of Angles
A readiness questionnaire to determine your fitness exercise level
Places to obtain free rosary beads or even rosary rings
Physical fitness training workouts divided into levels
Haven't opened a Bible in a while? — Not to worry, Peggy takes you step by step to get your feet wet again in the teachings of the Catholic Church. She emphasizes how it's ok to just recite the prayers at first and that a deeper understanding will come later. Initially I would lose track of my miles trying to remember if I even had the words correct! (As my kids have noted, my Bible serves to elevate my computer monitor and has not been opened in quite a while. It's still doing me good though, good on a daily basis — for my posture right?)
With The Rosary Workout Christian exercise program, you can now participate in Christian aerobics, walking, running, weight training, or yoga. Choose whatever exercise program you prefer, or mix and match for a mixture of Christian exercise programs.
Not Christian? Not Catholic? That's ok. You might still take a quick skim of the book and see if you can't apply similar ideas to incorporate your own faith into a workout program.
The Rosary Workout is more than just reciting the rosary while exercising. Peggy describes the muscles of your spirit as well as the muscles in your body. Consider getting your kids involved. Let them try working out to the rosary.
A gorgeous rosary ring:
Mental, Spiritual, Physical Health = Peace of Mind
Peggy Bowes has a Youtube video demonstrating a simple application of the Rosary Workout while doing squats. One thing that may draw you to Peggy Bowes is her down to earth style. She is certainly a mom, a military spouse, — one of us.
U.S. Armed Forces Rosary Beads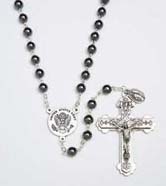 Peggy Bowes was featured on The Journey Home. Her interview is quite long (56 minutes for the full version on Youtube) but fascinating. Aside from her Christian military fitness training, you'll learn how Peggy Bowes is an Air Force Academy graduate who flew Air Force jets, yet one day gave up all her belongings to travel across the nation while home-schooling her children.
The interview takes you on her entire spiritual journey which has always been based in fitness and exercise.
Of all the work out books on the market, The Rosary Workout stands alone. Peggy certainly sets an example with her experience in exercise, health, and fitness. I hope she motivates you to get off the couch and make some new resolutions for the upcoming year.
I have to admit that I am not as disciplined as Peggy. My intentions seem to always outshine my performances (both spiritually and physically), but during my days of tough runs, I often think of Peggy Bowes. Instead of "What would Jesus do," I find myself thinking, "What would spiritual triathlon athlete Peggy do?" and I often start a Hail Mary to the rhythm of my pace. Somehow everything seems easier, the miles seem to slip by faster, and I feel more connected at the end.
What do you recommend for other spouses for spiritual fitness, physical health, or just peace of mind?
You might also like: