Life After Divorce – Surviving Divorce with Meet-up Groups
|
Surviving Divorce
One strategy for surviving life after divorce is to get out of the house. Fresh air and some new friends might be just the thing to lift your spirit. We all know coping with a break-up is not easy.
Try visiting Meetup.com. One great thing about this site is you can learn about local clubs or organiztions by entering your keyword topic, your city, and the number of miles you're willing to drive.
Advantages of Meet-up Groups:
Free to be a member – and most groups are free too
Easy to use website
Shy? – No worries. Almost every meet-up always has a few "first time" attendees. (You won't be the only new person)
Take a break from the kids – you will be a better parent if you take care of yourself
Meet new people – especially beneficial if this split caused you to relocate your home
Meet with non-military people – sometimes it's good to escape or take a break from military life
Divert your brain from "things to do" to focus on a hobby, something fun, a new venture
Suppose you wanted a divorce group within 5 miles of Sacramento.
On Meet-up.com, the screen might look similar to the image below.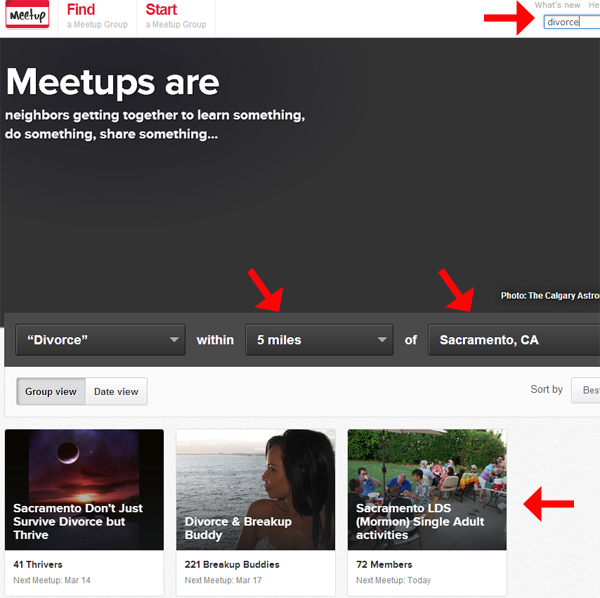 This simple search resulted in three groups focused on:
Surviving divorce,
Connecting with a friend who understands, and
A singles group
Ten (10) Ideas to Search for in Meet-up Groups
The site has a huge directory, so spend a little time browsing around and exploring all the possibilities. You can start your own club, but you might want to wait a little bit. After all, you're getting over a break-up so you probably have a lot on your plate.
Mom and Me communitiess: do something with other moms with their kids and everyone makes new friends
Animals: Enter 'dogs' and find a dog-run group
Hobbies: writing, photography, crochet, reading book clubs, travel, etc.
Foreign Language: Look for Spanish, French, etc. and refresh your skills or begin a new language
Go outside – try Sports: Getting outdoors always does the body and mind some good. Try a golfing, running, hiking, backpacking, biking, to name a few.
Dating: Enter 'singles' to locate some casual singles for some no-pressure casual get togethers
Divorce: Survive divorce by connecting with those in similar situations
Military: How about looking for Army, Air Force, etc. and connect with service members, veterans, or spouses
Entrepreneur: Explore small business, entrepreneur, internet business, self-employment, affiliate marketing, and more
Finance: There are also clubs that discuss the stock market
Once you've joined a social group or two, check out the memberships that your new friends are part of by clicking on their profile.
If you find yourself focusing on the past, why not try to vision your new social life after divorce. Where do you want to be? Who do you want to hang out with? Try a few different meet-ups to find the best one for you.
Are you already on Meet-up? Do you have another idea to boost your social life? ~ Answer in the comments below
Take Care of Yourself – There are strategies to Coping with Divorce