Local Military Spouse Meetings – Meetups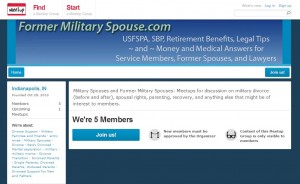 There has been some interest expressed on our Facebook page to have military divorce support group; an ability to meet in person, (face-to-face) to discuss any proposed changes to the USFSPA, inform military spouses of their legal rights and benefits during a divorce, and provide support during this difficult life changing event.
We've begun a support group using Meetup.com. (We first told you about meet-up when we discussed life after divorce.)
Our group membership is not restricted to the ex military spouse, who has already gone through a divorce. In fact, much discussion on Facebook concerns military wives in troubled marriages facing an upcoming divorce with their service member. They have many questions on entitlements and the rights of a military wife.
FIND THE GROUP: If you are searching on meetup.com, you may have to expand your search radius. Often meetup defaults to meetings within 50 miles, 100 miles, and so on. Using the drop-down, you can change this to search anywhere. You can also connect by clicking here.
When you join the group, we invite you to share your status (such as current spouse, former military spouse, veteran former military spouse (you served too), retired service member, lawyer, etc.) so we have an understanding of your background concerning divorce.
We might also list notifications of public hearings so that you would become aware of your local proposals to change the USFSPA application within your state or a state to which you might relocate.
The group is new and you can expect it to grow and evolve.
New to Using Meetup – Watch this Video
Subscribe to us on YouTube
Your Privacy in Our Military Divorce Support Group
Our group is set to Private, so your information posted will only be seen by members and not visible to the entire public. Similar to other forms of social media, there is no ability to verify information about members.
You may want to keep this in mind when you post your introduction and take some care in the personal information you post online.
We do hope everyone will at least share where they are located in, because that is the main purpose of the group – to get together with military spouses (current and former) in your local area.
We've also ask former spouses to disclose the state they were divorced in, as this may help those with pending USFSPA divorces learn their rights and how the laws were applied in the past.
You do NOT HAVE TO share any information and could still attend any meeting that fits your schedule. We're looking for your support and sharing of ideas.
We expect meetings might discuss ex military spouse rights and benefits in divorce, the USFSPA, parenting, challenges before and after divorce, and any other support topic needed in your local area.
If would like to join the group, click here.
Like what you read?
If so, please subscribe by email: